The goldilocks solution to BAU: how to get it just right
How do you harness market opportunities and move your business forward when you're drowning in BAU? We've got some great tips to help accelerate your business.
So, you've built a successful product, launched and are ready to develop new features to capture new business opportunities.
How do you meet the need for more Business as Usual (BAU) work, while also satisfying the demand for more features to grow adoption?
You have all the momentum to scale and grow the business, but your team is stuck continually juggling the BAU work of responding to user feedback, making improvements, and maintaining tech security.
Many companies underestimate the amount of BAU required and do too little, while others recognise the need for more BAU but get bogged down, missing the opportunities for growth.
And if you're ever going to capture emerging business opportunities and grow adoption, you really need to deliver new features.
The value of spending time on new work is proven: According to Accelerate by Nicole Forsgren et al, high performers spend 49% of their time on new work versus 38% for low performers. Check out this diagram from Accelerate below.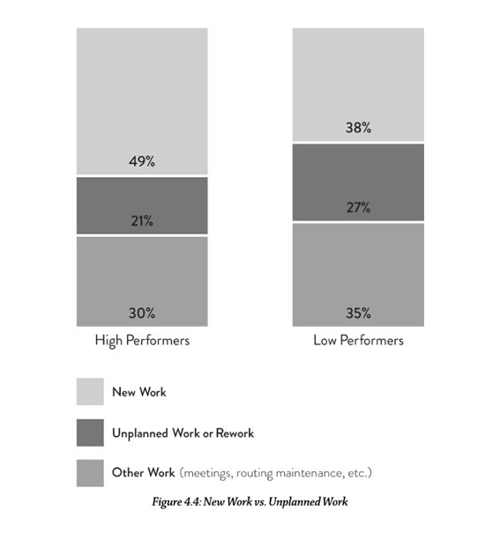 The question is how do you find the Goldilocks solution – not too little BAU, not too much – and get it just right?
Use internal talent to help with BAU
The biggest mistake you can make is to outsource your BAU. It might not be the sexy stuff but it's the core platform and foundation of the system, and it needs to be kept in good health.
In the early stages of a product's life, you receive a high level of customer feedback, and it's the team who built the product that's best equipped to respond to this feedback. Using an internal team also means you aren't putting your intellectual property at risk.
Make BAU more visible
Just to stand still you need to invest more. With your development team spending time on BAU work, their capacity for new feature work will be limited to 50% at best. But this can be difficult for business stakeholders to get their heads around, especially when their focus is on growth.
So, how do you communicate this to business stakeholders?
Communicate upwards

to ensure stakeholders understand how BAU is worth the investment now to avoid bigger issues in future.



Explain what BAU is

without using the phrase "business as usual". For example, explain how you're updating frameworks to limit exposure to viruses, or monitoring and improving stability of the system.



Set expectations

with how you frame the work and the language you use. The most important thing is to surface the risk, and implication of that risk to the business. The better you can frame it using customer and business outcomes, the easier it is to win buy-in.
Ensuring you have good managers is key. Good project and product managers will be focused on what's best for the business and can measure where efforts are going, which makes it easier to prove the value of BAU work.
Scale the leaders and doers
While the original team is focusing on BAU and has a limited capacity for new feature work, now is the time to hire product leaders and doers to work on new features. The ideal solution is to bring in a ready-made team that can operate relatively autonomously while moving forward with direction.
Working with a strategic partner, like Propel Ventures, means you have an intact product team, including leadership, who have experience working together and the ability to act fast on new market opportunities as they arise.
The advantage of bringing in a strategic partner is that you can keep momentum even while onboarding the team. When you hire externally, your internal teams need to dedicate time to upskill new hires, so there is often a hit to productivity while this happens.
By bringing in a strategic partner, there is still a small hit to productivity, but it is minimised. You simply focus on onboarding Propel's leaders, who will then onboard the rest. By scaling the onboarding, you can become productive as quickly as possible and accelerate towards growth.
The bottom line
Driving the momentum for growth demands a dedicated approach and an expanded team. With your product team focused on BAU and a strategic partner to work on new features, you can accelerate towards success and take your place as a long-term challenger in your market.